Rewiring the Consoles
I'm almost done re-wiring the the retro console rack. Previously, I had my older consoles strewn about – some on one side, some on the other. Now that I'm trying to livestream, I wanted to re-consolidate everything to HDMI and make it easier to switch signals on the fly. So now, everything older than an HDMI connection sits on one stand.
The schematic for what you see above looks like this: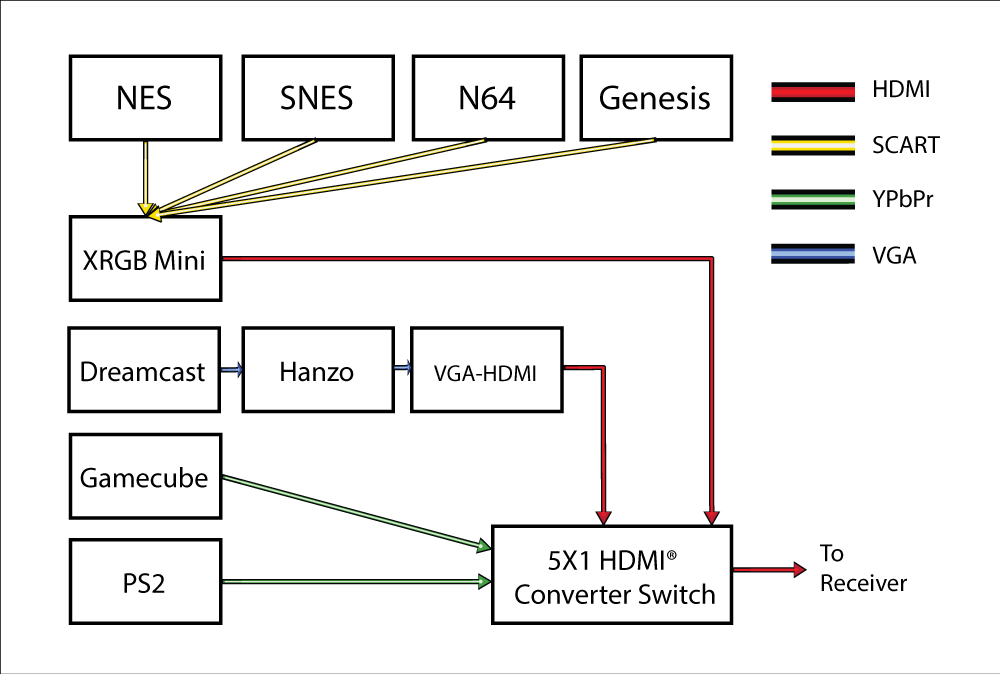 This means that, once I'm finished, everything on that single rack will be output via one individual HDMI cable. If I need to treat that rack as a separate object, I can. Even all the power sources are on that one piece of furniture. It's completely independent to itself. It even has room to grow, though not much.
I think that every little annoyance and headache I've hit during this livestream project makes this one thing worth it. I'm all about consolidation and wire organization, and by God, I'd say this is a rather decent piece of work!
I just hope the Monoprice 5×1 lasts – reviews weren't quite as stellar as I'm use to from Monoprice, but hey, it's the only thing I could find that does what it does.

UPDATE – 11:46pm
The wiring is complete, everything is tacked down, and so far as I can tell, power is running to all systems.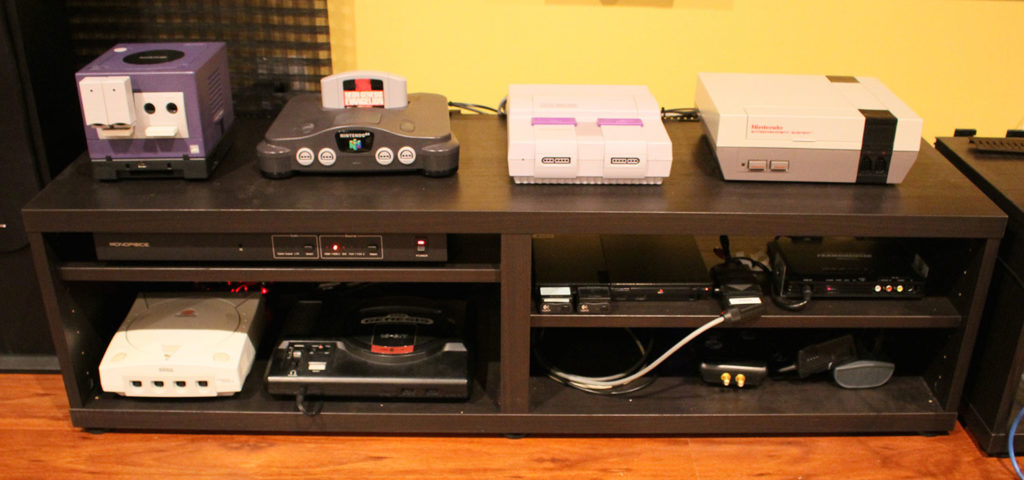 There are two surge protectors on this rack, with a bunch of empty plugs for additions or easy access in the future. There was some extra room by the surge protectors so I'm using that as my SCART swap – I would have just used a SCART switch, but I've yet to find one that works (one failed on me completely, the other wouldn't carry a signal over certain channels), so the search continues for a good SCART switch. As it stands, swapping out for a direct feed is fine, considering it's RGB across the board.
Next up: moving on to the right rack, which will contain all my current systems – the XBox 360, PS4, PS3, Wii U, HTPC with Elgato, and space for the eventual XBox One (if MS ever manages to stop pissing me off)!
After that, we hook up the new receiver, and finally get to see if this whole HDZONE thing will work for secondary HDMI out…
To be continued in a new post!