PAX East 2017: Postmortem
After three days of gaming insanity in the city of Boston, I'm finally home. This was my first PAX, and definitely not my last. My feat hurt, my back aches, I'm tired all over, and it was absolutely worth it.
As a first-time attendee, PAX East is pretty intense, even for a seasoned con-goer such as myself. The convention center feels smaller than it actually is, and somehow manages to be hard to navigate, even though the layout is stupidly easy to get. There are constant jokes and references to the amount of line-waiting you'll do, but even the barrage of line-related-humor doesn't prepare you: you'll be waiting in line FOR-EEEEEE-VER. 45 minutes to get in (when the temperature is 3 degrees), over an hour in the Bethesda booth line, 30 minutes in the Colina Legacy line, hours upon hours in lines for panels. I'm glad I brought the Switch, I got through half of Breath of the Wild just waiting in line.
But it was totally worth it.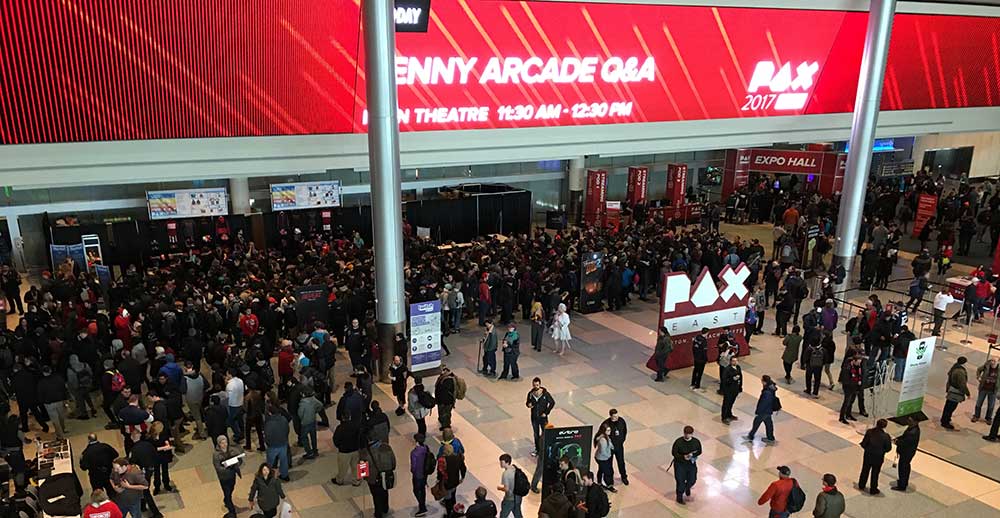 Day 1 – Friday
My first big event was a panel: Before the NES Classic, there was the NES, with John Andersen (Video Game Industry Historian), Joey DeSena and Daniel Cordaro (Echo Screen Live). It was a fun little hodge-podge of classic Nintendo marketing materials, some of which I recognized from childhood. It was a nice little slice of nostalgia to begin the weekend. After that, I had some time to kill before the next panel, so I headed down to the expo hall, where all the industry booths and sales are – the heart of PAX, if you will. In the expo hall you'll find THQ Nordic, Square Enix, Nintendo, Intel, Newegg, and many others peddling their wares or showing off what's coming up. It's a marketing blitz that is absolutely packed to the teeth and can be pretty intense if you're an introverted shut-in such as myself.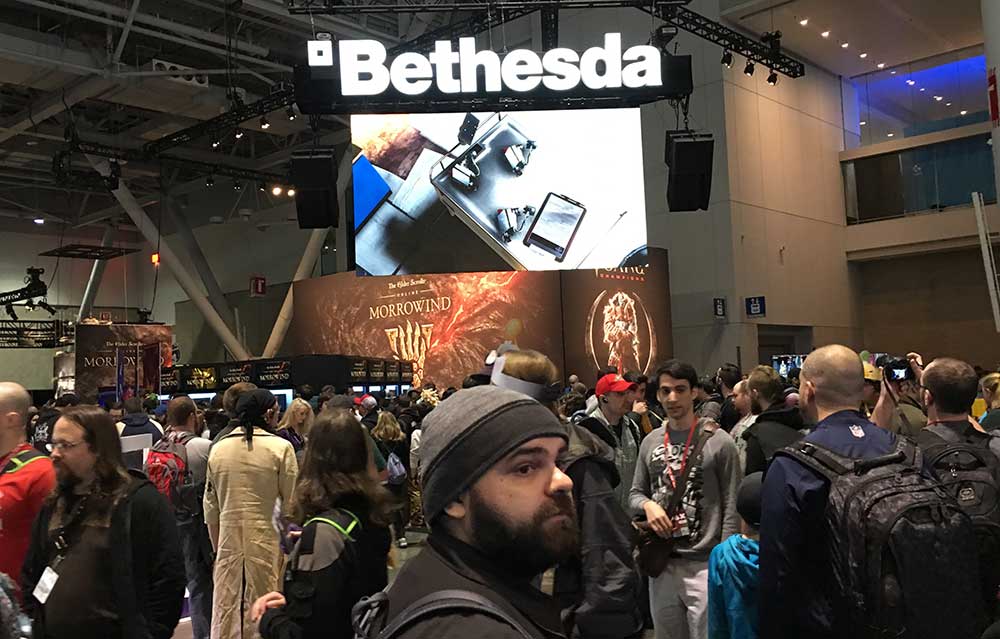 The first place I checked out was the Bethesda booth, where, luckily for me, they were about to start a gameplay demo of Prey. Presented and played by lead designer Ricardo Bare and lead systems designer Seth Shane, it was pretty cool to get some real gameplay footage of something I'm quite excited to play. I've been avoiding the majority of marketing materials related to the game, but I couldn't pass this chance up.
After satiating my gameplay appetite, I headed to the next panel: Being an Artist in the Game Industry. Headed up by Nick Nazzaro (Lay Waste Games), Pete Paquette (awesome animator on millions of projects, petepaquette.com), Gwen Frey (amazing technical artist on The Flame in the Flood), and Danny Beck (Riot Games), it was nice to hear a bunch of fellow creatives talking shop and war stories, especially in an industry I haven't worked in professionally myself.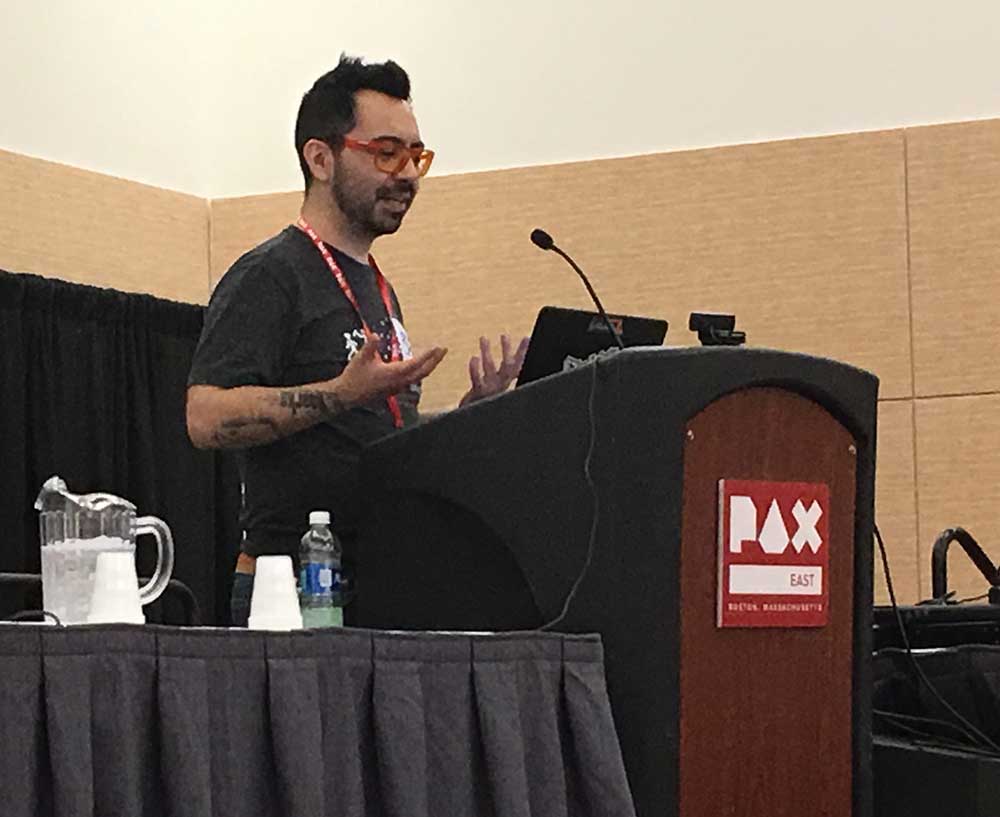 After that, I headed over to Make Games Not Excuses with Jaycee Salinas, a one-man-band musician who segued into game design simply because he wanted to. Like most kids who grew up gaming, the idea of making a game that others might play has always been a dream of mine, so I decided to check it out. Salinas talked a lot a bout the game he's working on – Traceher, a split-screen twin-stick shooter that looks really interesting – and how he got to where he currently is, showing the game at PAX and attending events such as GDC. There was a lot of cursing, so I loved it. It was also a very inspiring panel, so much so that I may actually complete one of the many gaming related projects I've had on the back burner.
Getting closer to evening, I hit the expo hall again to try out Colina: Legacy, a fun indie creeping-horror game, then headed up to GeekDad and GeekMom: Raising the Geek Generation 2.0, a panel about raising kids in a pop-culture heavy household. It was interesting – the panel was held by five moms (the dad on the panel had to deal with some kid stuff) and the trials and tribulations of being a geeky parent in society, and potential media to introduce to our children. There were a lot of questions regarding screentime, and some myth debunking related to screentime and videogames in general (no, games don't make you a serial killer). It was nice to have a panel dedicated to parents in what can be a very single-male-dominated world.
I closed out day one with my single favorite panel of the entire expo: Kusoge! More of Japan's Awesomely Awful Videogames. Paneled exclusively by Heidi Kemps of gaming.moe, Kusoge (meaning "shit game" in Japanese) not only showed off some of the most ridiculously awful games I've ever seen, but even challenged some of the audience to participate in torturous playthroughs of quick levels. The highlight was easily watching some poor woman attempt to play Super Mario Special for the first time. If you haven't heard of Super Mario Special, you're in for a treat:
Day 2 – Saturday
I started off my Saturday with one of my fun panel selections: Which Mario Game Is Objectively the Best Ever? Headed up by Kyle Orland of Ars Technica, Bob Mackey of fandom.wikia, and Anthony Agnello of Games Radar, this panel sought to determine the very best Mario game through a bracketed battle royale. There were some ups and downs, some technical errors and MAJOR disagreements, and although Mario 64 ended up winning (I thought it should've been either Mario 3 or Mario World), it was really fun to talk about all the great Mario games out there. It was a good time, even if the audience turned on the panelists pretty quickly, all in good fun.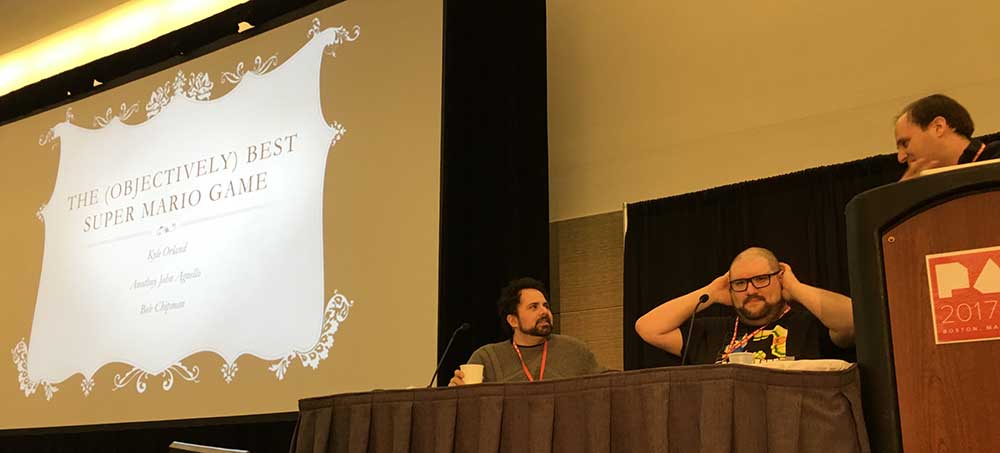 I decided to use the majority of my Saturday to walk the expo floor. I played a ton of games, lots of indie titles, and even did some tabletop with my friend Hsien. During this time I got to try out Conan: Exiles, Colina: Legacy (again – I liked it), Traceher, Mass Effect: Andromeda's multiplayer offering, and a whole bunch of random indie games. Unfortunately, I'd forgotten to charge my phone the night before, so I wasn't able to take any pictures. However, I did get one of Hsien trying out a John Wick interactive experience.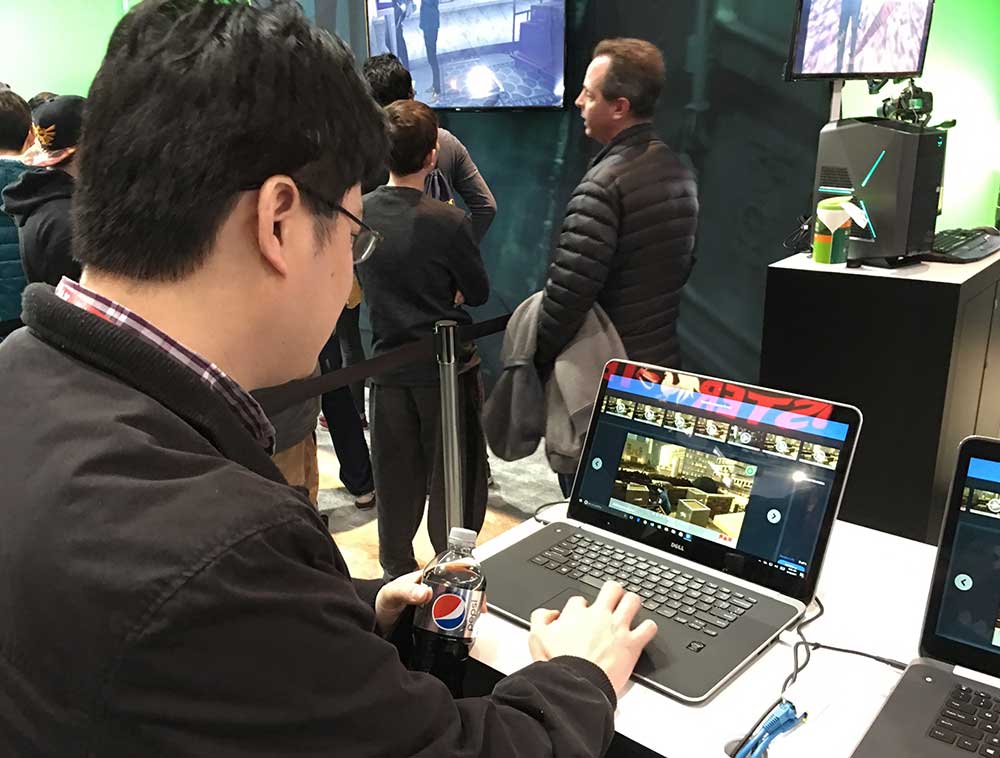 Later that day, I hopped into AppJunkies Live: The Worst Games Ever Made, headed up by Seven DeBord and Brian Hough (Rally Point), Kris Straub (Chainsawsuit Studios), and Amarisse Sullivan (Oculus). I actually ended up being disappointed with the panel. I was reminded of something said at the Kusoge panel, and I'm paraphrasing here: There's something magical about bad console games. When they fail, they fail hard, hilariously hard. We seek those games out due to their terribleness. When you find a bad mobile game, it's just kind of depressing, because there are so many of them.
I went out to dinner with my con-buddies after the panel, then headed back to the hotel early with Hsien, to take it easy that night. We played Tiny Epic Western in the bar. It was pretty fun – I liked it more than Hsien, I might pick it up myself. Those Tiny Epic games are great.
Day 3 – Sunday
Sunday was more of a laid back day, as I was preparing to fly back home later in the day. I decided to hit up a panel first: nner Demons: Anxiety and Depression in Gamers
. Suffering from clinical depression and major anxiety myself, it was interesting to hear the stories of fellow gamers and how they deal with their problems within the context of our mutual hobbies. It was a cathartic panel, and if they have it again next year, I suggest anyone with anxiety or depression or other malady to attend.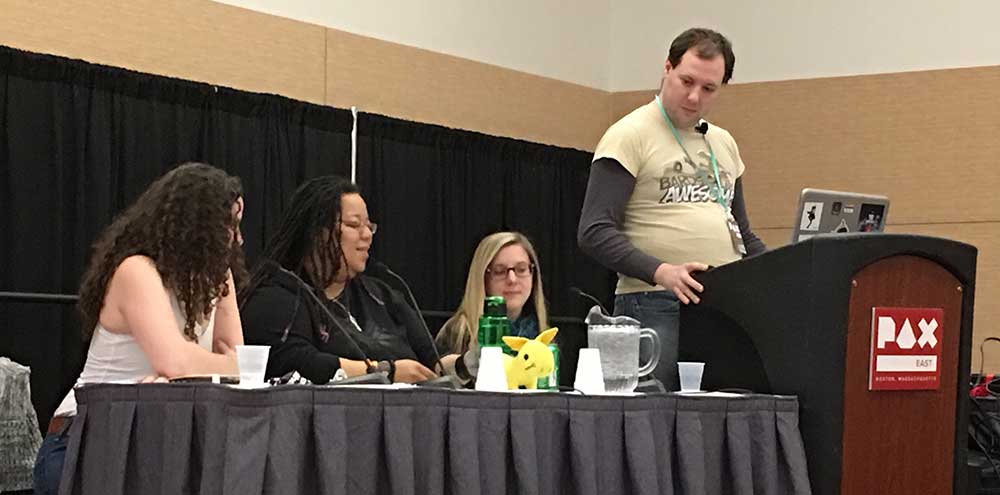 I spent the remainder of the day wandering the expo hall again. I bought my daughter a Pusheen unicorn plush, and a con exclusive Legend of Zelda: Breath of the Wild hoodie from Lootcrate. I checked out a few of the retro gaming sales booths, only to find that everything was ridiculously overpriced and marked up. I tried negotiating a copy of Demon's Crest down from $300 to $150 (which still would've been overpriced), but the sales people wouldn't negotiate at all. Awful experience.
I ended my Sunday at PAX by sitting in tabletop playing Tiny Epic Galaxies with Hsien, which was immensely fun, and the very popular Sushi Go, which I didn't particularly care for.
Eventually, it was time to head back to the hotel to pick up our luggage and hop a Lyft to the airport. Leaving a con is always a melancholy time so, as our final PAX event, we took a group picture in front of the main entrance sign.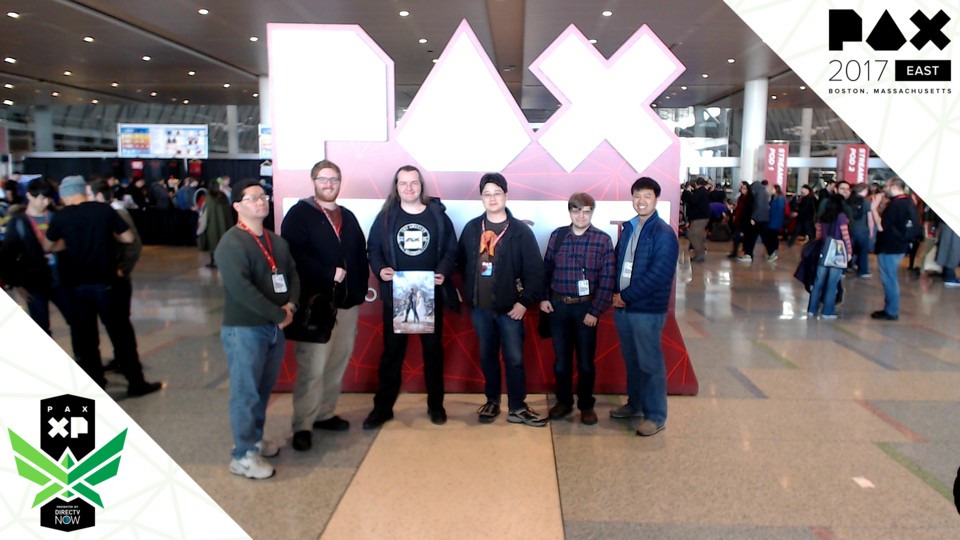 That's it for my first PAX! It was an immense amount of fun, and I can't wait to go again next year. Maybe I'll remember to charge my phone next time.
---